This website is under construction
JOIN £1 CHARITY CHALLENGE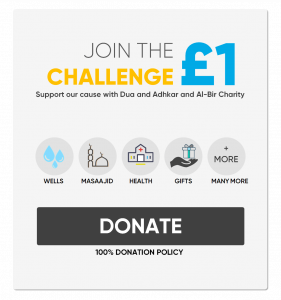 Dua & Azkar are now working hand in hand with Al-Bir. A charity which has committed itself to implement a 100% donations policy. Our aims are to work together to build a better world for our future Muslim generations around the world.
The Dua and Azkar team have been striving to bring these exciting opportunities to help make an impact on our community. Our projects focuses on enabling people to make a difference whilst earning Sadaqah Jariyah. With over 600K active users, much can be done to make this a reality.
We are challenging all our users to DONATE JUST £1 (or more) towards our Water Wells, Mosques and Educational projects around the world.
THANK YOU FOR YOUR SUPPORT
Charity Number : SC047070
Support Our Online Shopping Website

DUA & AZKAR IS COMMITTED TO DONATE 10% OF ALL PROFITS TOWARDS AL-BIR CHARITY PROJECTS
---
This website was created to improve our financial status so we can focus on other priorities such as charity work and developing our Islamic projects. The website offer 1000's of Amazon discounted products with instant coupon codes.Please visit our website and discover coupons for your everyday products.
Coupon N Discount has committed to donate 10% of all profits towards Al-Bir charity projects
VISIT WEBSITE